Motorcycle Exhaust Systems & Pipes
Most Recent Motorcycle Exhaust Reviews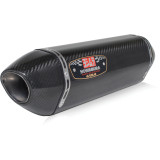 Yoshimura R-77 Full System Exhaust
Beaver bill

- Texas
Super quiet
"If you want quieter then stock this is it! Haven't even put the insert in because it's already to quiet on my gsxr 750. Very nice finish and fit."

See all reviews for this product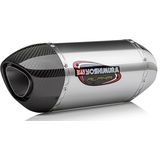 Yoshimura Alpha Full System Exhaust
Skitty112

- Paris, TN
Horrible fitment
"Purchased for my 2022 Ninja 650 and our service dept ended up having to modify the mounting bracket because the exhaust was too darn big and wouldn't fit correctly. Was very displeased with this purchase."

See all reviews for this product
Motorcycle Exhaust
Upgrading the exhaust on your motorcycle is an involved task and not for the amateur. A number of reasons exist for why riders change their motorcycle's exhaust but outside replacing a broken or worn system, new motorcycle exhaust pipes generally offer better performance and a look and sound OEM fails to deliver. You can fully replace your motorcycle system - a largely more expensive and complex option - or remove the current muffler and attach a slip-on exhaust.
Motorcycle Exhaust Pipes
A full system exhaust upgrade tends to provide high-end power while a new slip-on exhaust - popular with the sportbike crowd - offers an increase in lower-end power: Think starting line jump. Additionally, aftermarket motorcycle exhaust systems usually weigh less then OEM and range from more reasonably priced stainless steel to top-quality carbon fiber or titanium pipes.
Motorcycle Exhaust Brands List
MotoSport carries a wide-ranging inventory of complete exhaust systems and slip-on exhausts from all the leading brand name manufacturers. Choose from more than 100 full systems or nearly 170 slip-on exhaust selections by the most popular motorcycle exhaust manufacturers.
Motorcycle Full Exhaust System
...and many more!
Slip-On Exhaust
...and many more!
MotoSport also stock replacement headers and motorcycle link pipes as well as other motorcycle exhaust accessories like baffles and repack kits.
We are here to help!
MotoSport gives you one of the largest motorcycle exhaust system selections on the web and we never want you to miss a ride. Our exhaust systems range in price and some are best suited for certain bikes over others so if you need assistance give us a call on our toll free line at 1-866-677-7338 if you have questions and we can help you narrow your scope based on needs and what you are trying to accomplish with your motorcycle for a worry free purchase. Don't get exhausted looking for the right exhaust system! Just stick with MotoSport. We have no hassle returns and fast, free shipping for most purchases more than $79.
Street Bike Brands at MotoSport